U.S. Concrete's National Research Laboratory has significantly advanced the performance of concrete and driven the creation of new, innovative and cost-effective solutions that are making an impact today.

U.S. Concrete's National Research Laboratory was founded in 2009 as the research and development division of U.S. Concrete. During this time, we have engineered superior concrete mixes using alternative cement materials. These new mixes not only outperform traditional concrete mixes relative to set times and early strength, but significantly reduce the products carbon footprint. Many of these products have sprung from our Environmentally-Friendly Initiative (EF Technology). We have also developed and brought to market U.S. Concrete's Aridus, an innovative product that addresses Rapid Drying Concrete. This proprietary mix dries faster than conventional mixes, allowing flooring materials to be installed faster and more effectively – avoiding costly flooring failures.
Our mission at U.S. Concrete's National Research Laboratory is to initiate and work with partners on fundamental research and then pursue and develop commercially viable solutions that address the needs of owners, developers, architects and engineers. We are proud to have established an academic-industrial partnership with research teams at the University of California, Los Angeles (UCLA) and Arizona State University (ASU), along with other institutions worldwide, to develop alternative supplementary cementitious materials (SCMs). These efforts will focus on identifying and developing alternative supplemental materials that can be used to replace cement in concrete.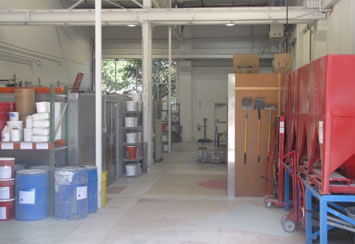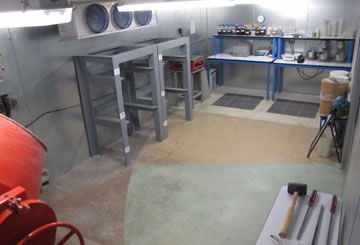 Researching Environmental Conditions: Temperature & Humidity
Our Batch Room is temperature and humidity controlled. It can operate from 50 degrees Fahrenheit to 100 degrees Fahrenheit and from roughly 30% relative humidity to 100% relative humidity.
Having the ability to control temperature and humidity in the Batch Room allows us to experiment with different environmental conditions and see how those conditions affect the performance of concrete. We are constantly testing our concrete mixes and working to optimize such properties as workability, set time and early strength, and evaluating these under diverse environmental conditions. This has been extremely beneficial in making significant strides in our EF Technology™ Initiative – an initiative that led us to develop a stronger, more durable and greener concrete mix, over traditional concrete.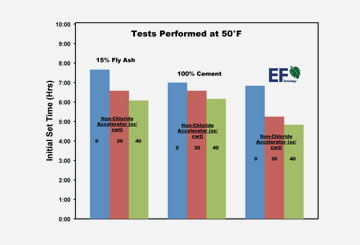 Data on our Low-CO2, EF-Based Concrete
Environmental Condition: 50 degrees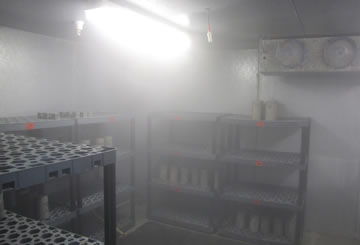 Proper Sample Storage
Often you will see concrete samples stored in troughs filled with water. If they are not properly maintained, they can actually leach vital components and hydration products out of the concrete. To eliminate this issue, we store all of our concrete samples in a temperature and humidity controlled "moist room".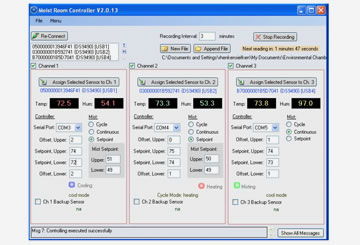 Computer-Controlled Environmental Chambers
All three of our environmental chambers are controlled from a web-based application. This application will alert us if any chamber is operating outside of the temperature or humidity tolerances that were set. We can dial-in remotely and solve the problem if a chamber should move out of tolerance.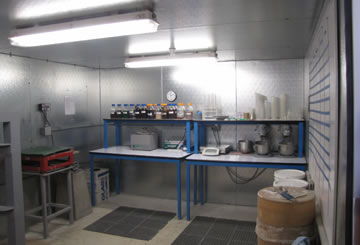 Investigating Unique Local Challenges: Materials and Environment
Though concrete is being poured throughout the country every day, the construction industry is far from monolithic. Each area of the country has unique challenges, which makes a one-size-fits-all product very rare.
To ensure that we are meeting the unique needs of each local market, we begin our investigations using mortar. This gives us a great deal of flexibility – allowing us to look at several multiple material combinations (such as different water/cement ratios, cementitious combinations and admixture combinations) under various environmental conditions.