Aggregates are inert granular materials such as sand, gravel, or crushed stone that, along with water and Portland cement, form the necessary ingredients in concrete.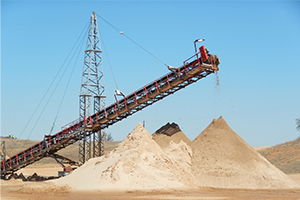 Aggregates need to be clean, hard, strong particles free of absorbed chemicals or coatings of fine materials that could cause the deterioration of concrete. Aggregates account for 60% to 75% of the total volume of concrete and are divided into fine and coarse categories. Fine aggregates generally consist of natural sand or crushed stone, with most particles passing through a 3/8-inch sieve. Coarse aggregates are any particles greater than 0.19 inch, but generally range between 3/8 and 1.5 inches in diameter.
Regional Coverage
We produce crushed stone, sand and gravel from 19 aggregates facilities located in New York, New Jersey, Oklahoma, Texas, Vancouver, B.C. and the U.S. Virgin Islands.
Applications
We sell these aggregates for use in commercial, industrial and public works projects in the markets they serve, as well as consume them internally in the production of ready-mixed concrete in those markets.
Polaris Materials: A Closer Look
Polaris Materials is a supplier of high quality construction aggregates to major coastal city markets in California, Hawaii and British Columbia. The Company has developed an integrated logistical chain of mineral resources, receiving port terminals and cost effective, contracted shipping that allows it to meet the need for replacement aggregate sources in markets where local resources are depleting and marine imported aggregates offer an increasingly viable alternative.
The Company operates the Orca Quarry, located on the northeast coast of Vancouver Island, BC, which is a very high quality sand and gravel resource with long life, permitted reserves. In California, Polaris owns the Richmond and Long Beach Terminals. The Company is actively engaged in the evaluation of opportunities for access to additional port receiving terminals, a priority that will allow sales growth through increased geographic coverage.
Polaris Materials recently secured tenure over the Black Bear Project, a massive hard rock deposit located in close proximity to the Orca Quarry, and is the major shareholder in the Eagle Rock Quarry Project, a large granite resource that is also situated on the coastline of Vancouver Island. The development of the Company's additional aggregate resources will be complementary to the existing Orca Quarry operation and support future growth.